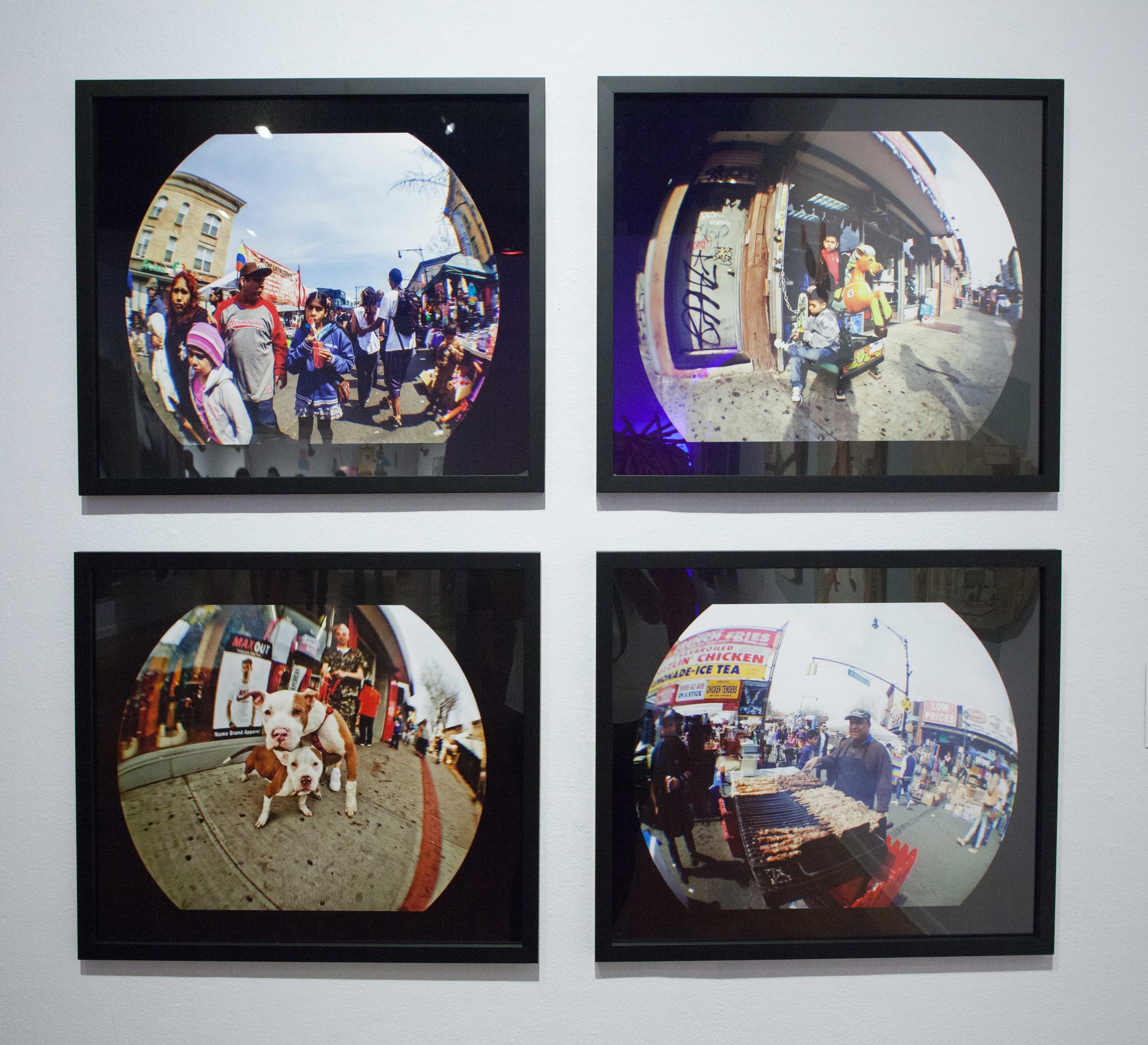 Photos from the Opening Reception by Essentials.
YLA 21: Amexican@
Guest Curated by David "Shek" Vega
Now in its 21st year, the Young Latino Artists (YLA) exhibition has historically provided emerging Latina/o artists with professional-level museum experience and exposure. Guest curated by David "Shek" Vega, YLA 21: Amexican@ focuses on Latina/o artists who grew up as part of the Millennial Generation.
While raised in dominantly Latina/o populated locales, these artists have altered their way of representing traditional Latina/o works as seen from art produced in response to the Chicano Movement of the 1960s-70s. Art from this era focused largely on community, often political in nature, and artists made a concerted effort to reconnect with their Mexican roots.
Art produced by Millennials reflects an inner dialogue; one that resonates with their Latina/o upbringing, nostalgia, the influence of the digital age, and the current cultural climate in the United States. The works on display represent a survey of the Latina/o Millenial Generation's response to art-making.
Featured YLA 21 Artists:
Vanessa Centeno (New Orleans, LA); Justo Cisneros (San Antonio, TX); Essentials Collective (Austin, TX); Hatziel Flores (Dallas, TX); Destiny Mata (New York, NY); James Medrano (San Antonio, TX); Chris Montoya (San Antonio, TX); Jaime "Flan" Munoz (Los Angeles, CA); Zeke Pena (El Paso, TX); Daniela Riojas (San Antonio, TX); and, Larry Servin (San Antonio, TX).
Changarrito Project: Selections from the Collection 2015-2016
Changarrito Project: Selections from the Collection 2015-2016 highlights works of art acquired during the Changarrito Residencies at the Mexic-Arte Museum. "Changarrito" is an art vending cart, conceptualized by artist Maximo Gonzalez as an alternative to the official gallery selections presented by the Mexican cultural authorities. Since 2012, the curators from the Mexic-Arte Museum have selected over 45 artists to participate in the Changarrito Project.
Select Changarrito Project Artists:
Alejandra Almuelle; Andrew Anderson; Briar Bonifacio; Daniel Cobos; Faustinus Deraet; John Gonzalez; Los Printmakers de San Anto Collective; Ender Martos; John Medina; Pedro Perez; Josue Rawmirez; Coco Rico; Natalia Rodriguez; Lys Santamaria; Sixto-Juan Zavala; and, Raquel Zawrotny.
Antojitos: Licha's Cantina
Beverages: Pabst Blue Ribbon & Specialty Cocktails
Music: DJ Chorizo Funk
Activity: Art Button-Making and Changarrito with Hector Carmona Miranda
Admission: $10 or FREE for Museum Members
Be the first to see the new exhibits and meet many of the artists featured in both exhibitions.
Become a Member.